This is one of my tutorials in English. If there is anything you don't understand, please send me a message or ask it in this topic. This tutorial is kinda long and has a lot of different textures in it so it might take a while to complete it.
Edit: This tutorial was made for
Photoshop CS2
Some tips:
- If your render is too big and you want to
make it smaller
,
press ctrl+t
and drag the corners of the renders while holding shift. Holding shift will make sure that your render still has the same proportions.
- If you don't like the way a texture looks in your sig, feel free to
skip a step or use another texture
. Tutorials are something that will help you make a sig and teach you new techniques, you don't have to copy the model sig exactly
-
Erase
parts that don't look nice.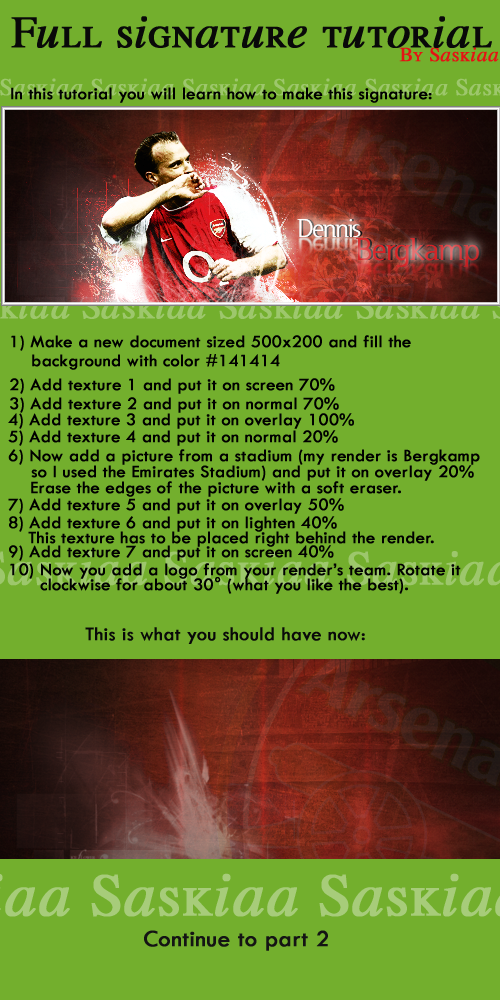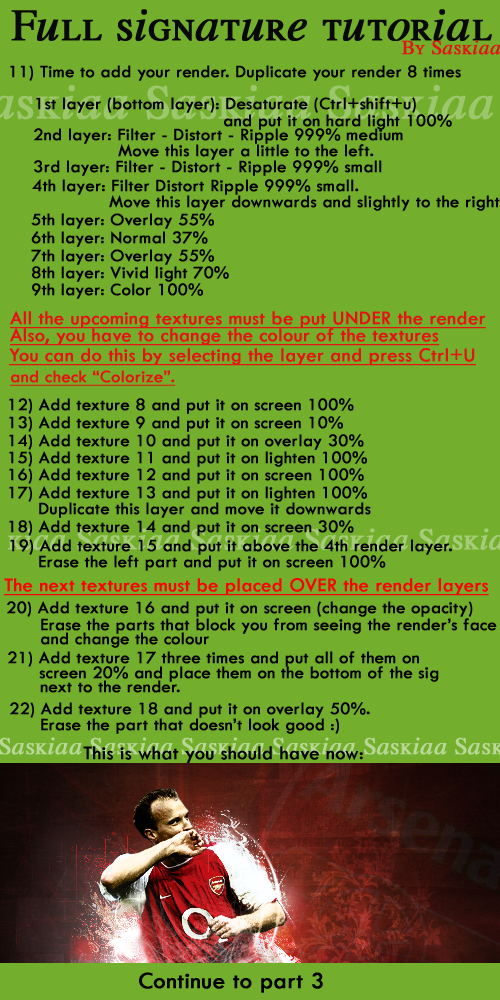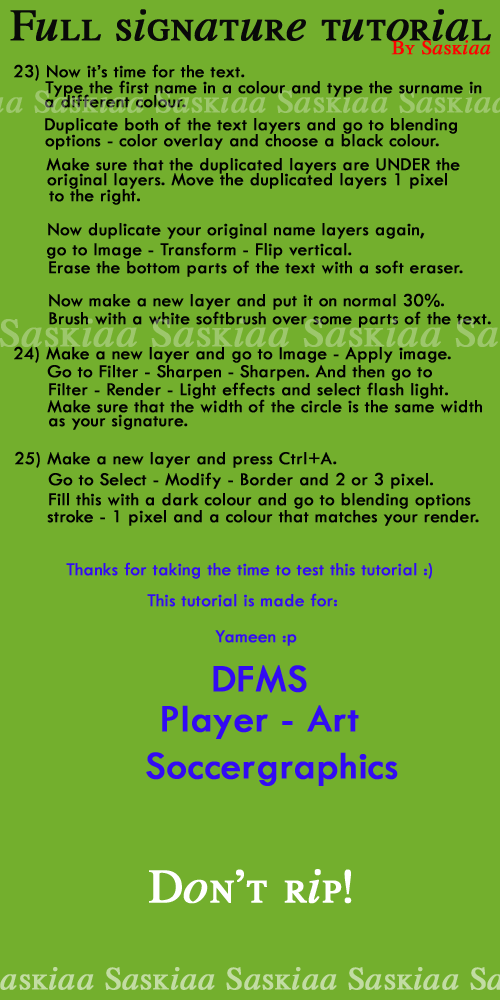 The textures:
http://i301.photobucket.com/albums/nn46/Sas_kiaa/Sig%20tut%20Bergkamp/texture1.png
http://i301.photobucket.com/albums/nn46/Sas_kiaa/Sig%20tut%20Bergkamp/texture2.jpg
http://i301.photobucket.com/albums/nn46/Sas_kiaa/Sig%20tut%20Bergkamp/texture3.jpg
http://i301.photobucket.com/albums/nn46/Sas_kiaa/Sig%20tut%20Bergkamp/texture4.jpg
http://i301.photobucket.com/albums/nn46/Sas_kiaa/Sig%20tut%20Bergkamp/texture5.jpg
http://i301.photobucket.com/albums/nn46/Sas_kiaa/Sig%20tut%20Bergkamp/texture6.jpg
http://i301.photobucket.com/albums/nn46/Sas_kiaa/Sig%20tut%20Bergkamp/texture7.png
http://i301.photobucket.com/albums/nn46/Sas_kiaa/Sig%20tut%20Bergkamp/texture8.png
http://i301.photobucket.com/albums/nn46/Sas_kiaa/Sig%20tut%20Bergkamp/texture9.png
http://i301.photobucket.com/albums/nn46/Sas_kiaa/Sig%20tut%20Bergkamp/texture10.jpg
http://i301.photobucket.com/albums/nn46/Sas_kiaa/Sig%20tut%20Bergkamp/texture11.png
http://i301.photobucket.com/albums/nn46/Sas_kiaa/Sig%20tut%20Bergkamp/texture12.jpg
http://i301.photobucket.com/albums/nn46/Sas_kiaa/Sig%20tut%20Bergkamp/texture13.png
http://i301.photobucket.com/albums/nn46/Sas_kiaa/Sig%20tut%20Bergkamp/texture14.jpg
http://i301.photobucket.com/albums/nn46/Sas_kiaa/Sig%20tut%20Bergkamp/texture15.png
http://i301.photobucket.com/albums/nn46/Sas_kiaa/Sig%20tut%20Bergkamp/texture16.jpg
http://i301.photobucket.com/albums/nn46/Sas_kiaa/Sig%20tut%20Bergkamp/texture17.jpg
http://i301.photobucket.com/albums/nn46/Sas_kiaa/Sig%20tut%20Bergkamp/texture18.png