Now that Blatter has resigned, there is huge speculation about the locations of the Russia and Qatar World Cups. I've been watching ESPN, and they seem to be pretty confident that the World Cup will go ahead in Russia because it's too late to change it plus WW3 could happen if it gets taken away from Putin.
Me personally, I would strip both Russia and Qatar of the World Cups because both are shady as hell. There's no way Putin didn't bribe people to get it in Russia—just look at the handouts his friends got from the Olympics. Qatar is already a well-known farce; even if we discount the obvious bribes, all one has to do is look at workers' rights, death tolls, and various other laws (e.g., drunkenness, PDA) to see that Qatar isn't fit to hold a World Cup. Just look at this infographic: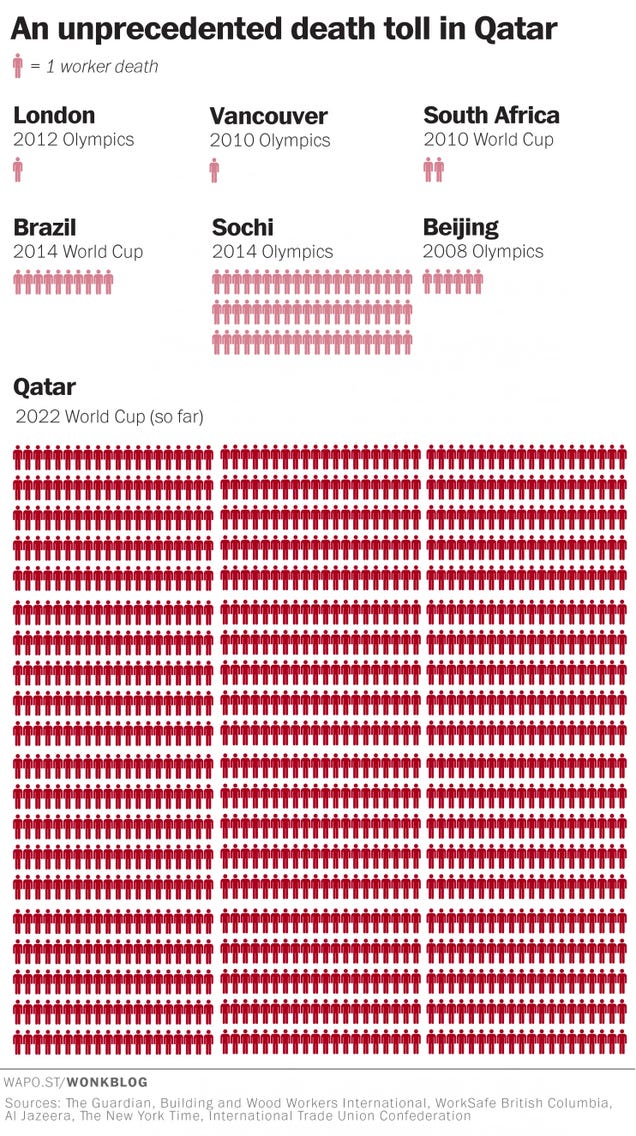 Surely that number has greatly risen since the graphic was published. Absolutely appalling.
I then give the 2018 World Cup to you bunch of crybabies
(but the entirety of the UK instead of England) because Spain/Portugal and Netherlands/Belgium couldn't handle a World Cup with only three years of preparation. 2022 is for the United States against Australia, but I'd personally give it to Australia because they haven't had one yet and 2026 is pretty much a foregone conclusion to be in the US.
2018: United Kingdom
2022: Australia
2026: United States
Let's make the next three World Cups dominated by English-speaking countries.