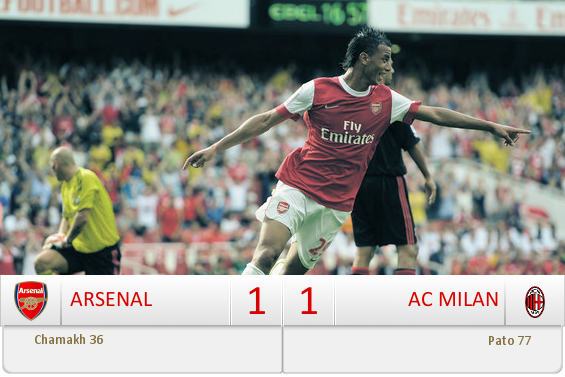 An encouraging performance until the final 10 minutes of the game or so, our first match in this year's Emirates Cup saw impressive home debuts from Laurent Koscielny and Marouane Chamakh, with the latter producing our goal relatively late in the first half. Samir Nasri also looked good, and Andrey Arshavin was decent too, while Thomas Vermaelen, captaining the side, looked dominant until Milan's late equaliser. There were several reasons for boss Arsene Wenger to be cheerful, although there were a couple of negatives to be taken from the match as well.
Fabianski started in goal, and some, including John Hartson (who it's always a pleasure to see looking well after his battle with cancer might I add) thought that was a strong indicator that the Pole would be our first choice goalkeeper for the season, although Arsene confirmed after the game that Manuel Almunia will be starting between the posts tomorrow against Celtic. The defence was composed of Emmanuel Eboué, Laurent Koscielny, Thomas Vermaelen and Kieran Gibbs, all of whom performed well.
The midfield consisted of Tomas Rosicky, Emmanuel Frimpong, Jack Wilshere, Samir Nasri, and possibly Andrey Arshavin - it's difficult to tell whether he was a part of the midfield as he, like Nasri and Rosicky, had such a free role in the team during the match. One thing was for sure though; Marouane Chamakh, the free transfer from Bordeaux, started his first match at the Emirates up front.
The formation was difficult to suss out. It could have been a 4-4-2, a 4-3-3, or a 4-2-3-1. Wilshere seemed as deep as Frimpong, so that would probably rule out the possibility of a 4-3-3, since usually when we play that formation we have just one defensive midfielder, namely Alex Song. Chamakh definitely seemed alone up front, although isolated would be going too far, so if pushed I would say it was a 4-2-3-1 formation, with Nasri in behind Chamakh, Arshavin and Rosicky on either wing, with Wilshere and Frimpong sitting deep. Incidentally, I don't think the former is cut out to play in that position.
We started off pretty well, with some nice combinations between Rosicky and Gibbs. Speaking of Rosicky, his hair style led me to notice a creepy resemblance between the Czech midfielder and Edward Scissorhands. Anyhoo, there were some sharp passing moves from the home side, but nothing came of any of them. Chamakh was showing some nice touches, and Koscielny was winning absolutely everything on the deck, while his central defence partner was dominating the aerial balls.
Rosicky missed a good chance after good work from Nasri, who bamboozled his marker to cut into the area and pull it back, but Edward Scissorhands slotted it close to Abbiati, the AC Milan goalkeeper, who saved with relative ease. We were creating some good openings, and importantly, we weren't letting Milan do the same.
Six minutes past the half an hour mark, and Chamakh opened his Emirates Stadium account. Arshavin suddenly burst into life, leaving three Milan players in his wake and waited until the perfect opportunity arose to slip Chamakh in, who checked he was onside before stroking the ball clinically past Abbiati, and the Gunners faithful celebrated the goal from their new hero, as the Morroccan was surrounded by his team-mates, who congratulated their new striker.
Flamini lashed a half volley at the Arsenal goal, but it deflected off of Koscielny and onto the crossbar, before Milan again went close to scoring through Pato, who took down a long ball well before turning and curling just over Fabianski's far post. The Polish 'keeper then had to charge out of his goal to stop Marco Borriello from latching onto a direct through ball from Clarence Seedorf, and soon it was half time, with the Gunners in control.
-----
Three changes were made by Wenger at the break, with Walcott, Sagna and Clichy replacing Rosicky, Eboué and Gibbs respectively. A burst of speed from Walcott saw him evade the Milan full back and find Arshavin in the centre, who struggled to get an effort on target first time and the ball rolled out for a goal kick.
Chamakh then produced an outstanding piece of skill and awareness, dragging the ball back and flicking it into the path of the speeding Arshavin, whose shot was saved, but Jack Wilshere couldn't get to the ball in time to fire it home, and ex-Gunner Mathieu Flamini managed to clear.
Vela, Djourou and Randall were soon on, and the Mexican forward was soon dazzling the Emirates, taking on three Milan defenders at once and squeezing past them all, flicking it past two and nutmegging the third, before curling an audacious shot with his weaker foot just wide of the goal. The Emirates faithful vigorously applauded the skill from the nippy Vela, who recently took up the number 11 after Robin van Persie took number 10.
After Bacary Sagna tussled with a Milan youngster, he was adjudged to have fouled him, and Clarence Seedorf took the freekick. The Dutch maestro swung in the free kick, and Alex Pato beat Thomas Vermaelen to the ball to glance it past Fabianski to make it 1-1 with ten minutes left on the clock.
It turned out to be the last goal of the game.
It shouldn't have been.
Mark Randall found himself clean through after Nesta's leg stuck out and diverted the ball into his path. He put the ball straight at Abbiati though, but no worries, the ball rebounded straight back to him. With the goalkeeper on the ground, he couldn't possibly miss. Could he?
Turns out he could. Aiming for the corner, he gave Abbiati a chance to save it, and save it he did, and the young midfielder spurned two fantastic opportunities to win the match for Arsenal, and it nearly got worse, as Gianluca Zambrotta struck the crossbar with two minutes to go. It was the last action of the game, and the game ended 1-1.
A good performance until late on, when the Gunners seemed to tire and start misplacing passes more often, but the performances of Koscielny and Chamakh will give Wenger a satisfaction that once again, it seems that he's pulled off some great transfers. Maybe another centre back and a goalkeeper Mr Wenger? That would do nicely.