Just something I wrote for somewhere else, but for those who follow English football, maybe something to discuss?
Whatever really happened? The team everyone used to hate now attempting to regain entry into the second flight of English football.
The now sadly departed Brian Clough managed the club through the glory days, so maybe only he would know.
I will go back to the mid seventies when football was a supporters game, people could afford it. You know the score, proper terraces, muddy pitches and managers with passion. None more so than Brian Clough who left local rivals Derby County, with whom he had just made Champions of England, to take on a little known club called Nottingham Forest. History was made almost instantly, when he turned a team of almost no-ones into a team challenging for promotion.
Suddenly, Brian Clough had brought not only himself to the fore, but the name of Nottingham Forest. Not only were the team being an utter nuisance to the "so-called" elite of the time, they were beating them as well. Beyond all expectations, Forest clinched the title, and went on to emulate Liverpool by competing in The European Cup and actually win it. Now imagine the scenario now, a dozen hardened drinkers and smokers from the low leagues mixed in with a couple of decent names actually winning the ultimate accolade. Not much chance these days, but it really happened.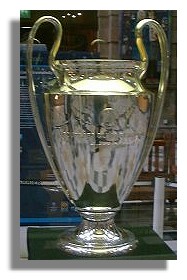 Not only did they initially win it, but actually successfully defended it, something which few teams in Europe can boast. Suddenly from zero, Nottingham Forest were a household name, and the ultimate team to beat. Those "Tricky Trees" were everywhere, The City Ground was the most buzzing place in The Land, and Cloughie was being touted as the next manager of England.
Where did it all go wrong? Well it is something I can never work out, and doubtless the now mass-departing supporters of Nottingham Forest can possibly never answer. The Trent End still sings for the days of glory, although even the most die-hard would agree that the glory days will never return.
Sadly, Forest now ply their trade playing little teams, and struggling to fit half their ground with supporters, and leave people such as myself scratching my head as to where it all went wrong